Recovery and Work-Life Coaching
Transpersonal Hypnosis
Seminars
ABOUT ELIZABETH SUDLER
I am a person in long-term recovery with considerable depth of knowledge and experience in 12-Step programs, other recovery pathways, and emotional recovery issues.  A path of lifelong learning forms the basis of my current coaching and transpersonal hypnosis practice.
I have held strategic roles in health and wellness divisions at both Goldman Sachs and Merrill Lynch.  As a senior leader at Magellan Behavioral Health and HealthNet, I had profit and loss responsibility for large clinical and call centers, one of which won a company-wide Distinguished Service Center of the Year for outstanding quality indicators.
I launched the first fee for service coaching program for US employees at Goldman Sachs' corporate headquarters.  I also helped design, deliver and incorporate resiliency and mindfulness training into all levels of Goldman Sachs Americas leadership and development programs.  Over a period of 20 years, I provided hundreds of hours of coaching and consultation services to managers and leaders across multiple industries.  I've conducted hundreds of seminars in a wide variety of industries on topics related to change management, strategic self-care practices in the workplace, and mental health/substance use awareness.  Most recently I re-implemented and directed a large recovery coaching program in western Massachusetts.
A MULTIDISCIPLINARY APPROACH
I approach people and problems with a multidisciplinary perspective informed by neuroscience, trauma and addiction-informed practices, and transpersonal hypnosis and psychology.
My sweet spot is facilitating hypnotic and coaching processes that help align conscious and unconscious needs for self-expression, inner-balance, and competence in personal relationships and work settings.
The people I work with seek greater awareness of the parts of themselves that are blocked in some specific, important way.  Or grapple with troubling work or personal relationships that undermine their health or satisfaction from otherwise satisfactory lives.
My practice is client-centered.  The goal of the work is always discovery of the client's inner-knowing, the client's willingness to become more aware of alternate skillful options, and finally their deliberate choice of more intentional, precise action.
Most of my work is short-term and awareness and solution-focused.  If larger issues require a significant unpacking and processing, I refer out to seasoned psychotherapists.
Partial Client List
Previous clients include people in recovery, change agents, and employees and leaders in corporate, union, NGO and military settings, including: Bank of America, Towers Watson, Columbia University, B.F. Goodrich, Coca Cola, Deloitte, Oracle, EY, The New York Times, Coach, Carnegie Hall, World Bank, Kate Spade, US Army, US Coast Guard, Dunkin' Donuts, National Hockey League, the International Coach Federation, the National Council for Behavioral Health and others.
DEGREES, LICENSES & PUBLICATIONS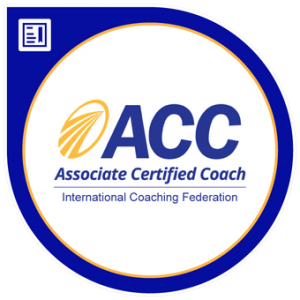 I received performance-coaching training in London, England from Sir John Whitmore's Performance Consultants International, and also from W. Timothy Gallwey, creator of the Inner Game coaching brand. I have been a long-term student at the New York Psychosynthesis Institute and the Huntington Meditation and Imagery Center.
I earned a master's degree in community organization from Hunter College School of Social Work, and a BA in history and psychology from Sarah Lawrence College. In addition to being classified as an International Coaching Federation (ICF) Associate Coach, I hold certifications in Hypnosis, Clinical Meditation and Imagery, and Transpersonal Coaching. I am licensed in New York state in clinical social work, with a specialty in substance use and recovery.  Additionally, I am a National Trainer for Mental Health First Aid at Work.
Although I maintain a clinical license, I no longer provide psychotherapy and limit my practice exclusively to recovery and work-life coaching, transpersonal hypnotherapy, and seminars.
The Children of Alcoholics Foundation published a series of remedial work skills training programs I developed for children from dysfunctional families. My corporate work has been featured in Fortune, Bloomberg and Crain's.