Transpersonal Therapy
Recovery and Work-Life Coaching
Seminars
WHAT IS TRANSPERSONAL THERAPY AND COACHING?
Merriam-Webster transpersonal definition- 1: extending or going beyond the personal or individual; 2: of, relating to, or being-psychology concerned especially with esoteric mental experience (such as mysticism and altered states of consciousness) beyond the usual limits of ego and personality
Transpersonal methods are beneficial, even necessary, when conventional therapies and mainstream problem-solving strategies provide some but not enough healing, insight, self-confidence, or relief.  Transpersonal strategies bypass our ego and the common everyday knowledge and conditioning we have absorbed through our culture.  Instead they tap through us into deeper levels of "God," "Higher Power," or "Higher Self" consciousness, including inner wisdom, inner peace, life purpose, and feelings of oneness.
Conventional practices (think most psychotherapies, self-help and how-to literature and videos) thankfully work well with the day-to-day challenges that most of us face at one time or another.  Yet some of us are forced out of the mainstream into much deeper waters when possessing exceptional talents or abilities, when recovering from addictions, while facing life-threatening health or complex trauma concerns, when feeling an unrelenting heartfelt desire to live a fully-embodied life, while being stigmatized or attacked for being perceived as "other," for consistently thinking in non-traditional ways or an innovative fashion, and/or when hearing an urgent but ill-defined calling to heal ourselves and our global, planetary issues.
Changing our thoughts and adopting new behaviors can always help at some level.  But what happens when it is not obvious what type of new thinking or new behavior is necessary? Or when we have tried everything possible we can think of to make progress, yet our progress is stymied or slowed by some barrier we cannot grasp?  Or when we have lost our sense of who we are or what really matters after a life-altering transition?
WHY TRANSPERSONAL METHODS MATTER
They give us access to our natural inner wisdom, to our spiritual self.  This capability is latent in each of us, and is accessible when we want to find it.
Our culture promotes the value of experts: people who can explain us to ourselves and help us live our best lives.  They persuade, influence, and monetize us through social media.  They create "best practices."  Sometimes these best practices work and sometimes they don't.  The further away we are from the average, the less likely these best practices will fit our specific needs.
In recent years we have witnessed the crumbling and underbelly of some religious, economic and other once highly-respected institutions that provided  expertise and meaning.  Many of us are are now aware that external authorities and experts do not have all the answers, despite their strong assurances that they still know much more than we do.  Many of us are reclaiming our right and responsibility to seek and find our own answers, both outside and within ourselves.  Those of us who burn with a talent or impulse or creative urge to bring something fresh and evolutionary into the world recognize ourselves here.
Transpersonal methods include relaxation and powerful questions that enhance the inner search.  By quieting our minds and entering into deeper states of consciousness, we gain access to information, guidance, and greater awareness.  These states of mind are typically inaccessible as we race to fulfill our multiple daily obligations.
HOW DOES IT WORK?
My sweet spot is asking deeper questions, pointing out connections, and facilitating guided-visualization and hypnotically-induced meditative states.  The client has firm control throughout the process and sets the agenda for each session.  When requested, I also provide recovery and work-life coaching to help align clients' conscious and unconscious needs for self-expression, inner-balance, authenticity, and impact.
My practice is client-centered.  The goal of the work is: 1) discovery of inner-knowing and guidance; 2) harnessing the will to explore, experiment, and become more aware of alternate skillful options; and 3) deliberate choice of more intentional, precise action.
Most of my work is awareness and solution-focused.  If persistent mental health/substance use issues require unpacking and processing, I refer out to seasoned psychotherapists.
ABOUT ELIZABETH SUDLER
I am a person in long-term recovery with considerable depth of knowledge and experience in 12-Step programs, other recovery pathways, and emotional recovery issues.  A path of lifelong multi-disciplinary learning forms the basis of my current coaching and transpersonal therapy practice.
I have held strategic roles in health and wellness divisions at both Goldman Sachs and Merrill Lynch.  As a senior leader at Magellan Behavioral Health and HealthNet, I had profit and loss responsibility for large clinical and call centers, one of which won a company-wide Distinguished Service Center of the Year for outstanding quality indicators.
I launched the first fee for service coaching program for US employees at Goldman Sachs' corporate headquarters.  I also helped design, deliver and incorporate resiliency and mindfulness training into all levels of Goldman Sachs Americas leadership and development programs.  Over a period of 30 years, I provided thousands of hours of clinical, coaching, and consultation services to managers and leaders across multiple industries.  I've conducted hundreds of seminars in a wide variety of industries on topics related to change management, strategic self-care practices in the workplace, and mental health/substance use awareness.  Most recently I re-implemented and directed a large recovery coaching program in western Massachusetts.
PARTIAL CLIENT LIST
Previous clients include people in recovery, change agents, and employees and leaders in corporate, union, NGO and military settings, including: Bank of America, Towers Watson, Columbia University, B.F. Goodrich, Coca Cola, Deloitte, Oracle, EY, The New York Times, Coach, Carnegie Hall, World Bank, Kate Spade, US Army, US Coast Guard, Dunkin' Donuts, National Hockey League, the International Coach Federation, the National Council for Behavioral Health and others.
DEGREES, LICENSES & PUBLICATIONS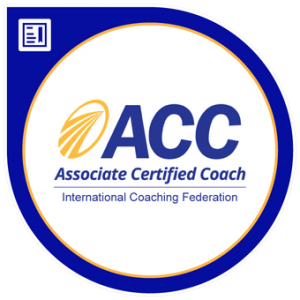 I received performance-coaching training in London, England from Sir John Whitmore's Performance Consultants International, and also from W. Timothy Gallwey, creator of the Inner Game coaching brand. I have been a long-term student at the New York Psychosynthesis Institute and the Huntington Meditation and Imagery Center.
I earned a master's degree in community organization from Hunter College School of Social Work, and a BA in history and psychology from Sarah Lawrence College. In addition to being classified as an International Coaching Federation (ICF) Associate Coach, I hold certifications in Hypnosis, Clinical Meditation and Imagery, and Transpersonal Coaching. I am licensed in New York state in clinical social work, with a specialty in substance use and recovery.  I am also a National Trainer for Mental Health First Aid at Work.
Although I maintain a clinical license, I no longer provide traditional insurance-covered psychotherapy.  My practice is focused on recovery and work-life coaching, transpersonal hypnotherapy, and seminars.
The Children of Alcoholics Foundation published a series of remedial work skills training programs I developed for children from dysfunctional families. My corporate work has been featured in Fortune Bloomberg and Crain's.